August 11, 2016
Ahwatukee Foothills
Srianthi Perera
In about 2000, Gilbert was beginning to fill tract after agricultural tract with cookie-cutter houses and the imminent Loop 202 freeway in the East Valley was signaling even more growth.
Town visionary Joe Johnston eschewed the norm and instead set out to preserve land from his family's homestead and create an ideal community.
Johnston's parents, Jim and Virginia, had farmed in the area near Ray and Higley roads since the 1950s.
"The farm, as it stood, was not going to be something that made sense in the fabric of the suburban environment," Johnston said. "We wanted to preserve agriculture and we also wanted to preserve every single building in the homestead area."
The result of his stewardship is Agritopia (agriculture+topia), a 160-acre village urban farm with a population of 1,300 that has garnered attention from around the world.
Agritopia wasn't born overnight. For many years, Johnston conducted extensive research by reading, traveling to historical neighborhoods around the country and urban farms overseas, and observing the principles of the new urbanism movement that developed in the 1980s as a reaction to sprawl.
The project features 450 homes, a senior independent-living community called Generations At Agritopia, farm, fruit orchards, community garden, parks and trails, school, church and commercial entities such as The Coffee Shop and Joe's Farm Grill.
To open later this year is Barnone, an old Quonset barn-turned-artisan workspace with a micro restaurant, brewery and other uses. Still to come is Epicenter, a mixed-use development with luxury apartment homes on the top floors and upscale retail spaces below.
More than a decade after implementing his ideas, Johnston feels that although everything is "not perfect," his primary goals have been met.
One of the goals was helping to reduce the isolation that's common in urban centers, where families with young children often tend to live away from senior housing. Agritopia's village brings them together, which Johnston said was "very important."
"We have a huge range of housing sizes on the same street," he said. "That allows people from different economic situations and different life situations to live on the same street."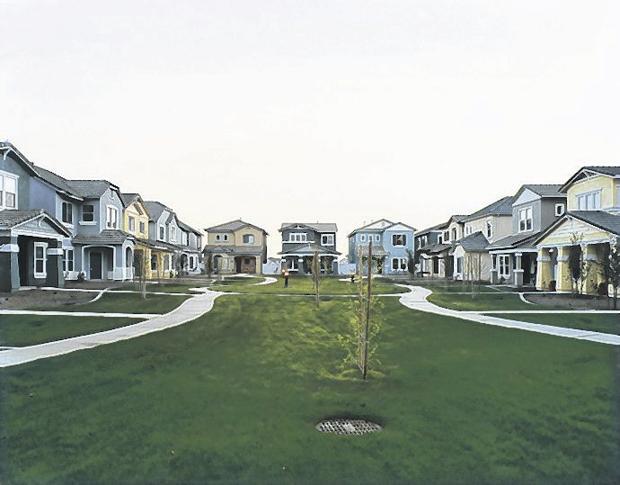 Rather than continue with growing the traditional cotton and alfalfa that had reigned in the area for decades, the farm plants crops that can be consumed by the community. The produce is available for sale at their farmers markets and at the Farm Stand, which is a pay-as-you-go service based on the honor system.
Foremost among the community's strong appeals is the neighborhoods' design: porch-fronted homes, low fences and tree-lined streets that promote strolling rather than motoring, and the easy access to day-to-day needs -- all deliberate factors to promote relationships. The community garden, where individuals plant in small plots, allows people to get to know others with similar interests.
"We wanted to make sure we broke down as many barriers between people as possible," Johnston said.
Agritopia has inspired countless urban-ag communities around the world. True Life Companies, developer of the proposed Ahwatukee Farms on the site of the shuttered Ahwatukee Lakes Golf Club, says it borrowed heavily from Agritopia in its proposal.
Everything combines to create the flavor of a modern-day village, which is the most appealing factor in Agritopia, according to its founder.
"Where you belong and you know people and you feel connected to community, where you can see older people and younger people and people walking and it's just different than in normal American life," Johnston said.
"I think we've kind of lost it and we've had to recreate it," he added.